Mountain Home Community Distribution Offers More Than Food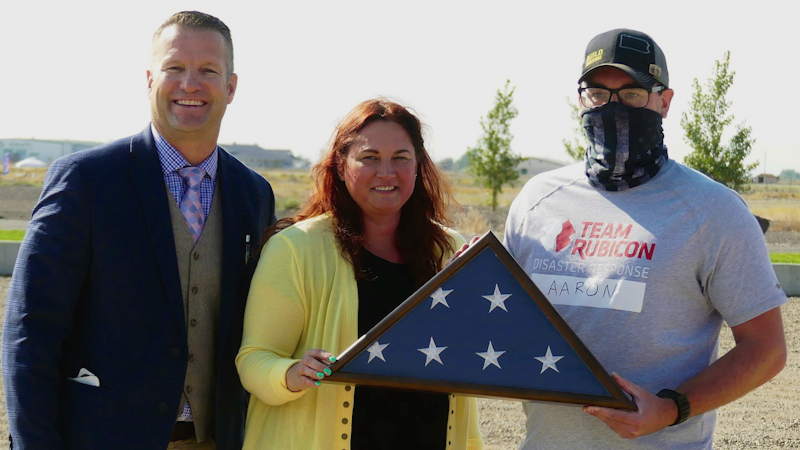 The Idaho Foodbank held its fourth "Farmers To Families" food box distribution in Mountain Home on September 11, 2020. The "Farmers To Families" food box program is part of the USDA's Coronavirus Food Assistance Program (CFAP). This service allows more food to flow quickly into the Idaho while aiding farmers and ranchers throughout the country. These special deliveries of food boxes are also known as "Community Distributions" as they allow The Idaho Foodbank and a local partner to provide hundreds of households with nutritious food and essential staples in a short amount of time. To maintain health and safety protocols, these events are set up as a drive-thru; where people will stay in their cars and volunteers put the food boxes in their trunks or backseat.
One of the volunteers at the Mountain Home event was Air Force Staff Sgt. Aaron Dickerson. Dickerson is a part of Team Rubicon, an organization made up of veteran and active military volunteers who are deployed in emergency situations like hurricanes and earthquakes. In this situation the emergency is food access and their mission is to manage the set-up and logistics for these crucial distributions.
During this particular event, Dickerson was recognized for his invaluable volunteer efforts in organizing the distributions in Mountain Home. Thanks to his tireless efforts, Dickerson has handed out over 7.4 million pounds of food in four months in Ada and Elmore County. Mayor Rich Sykes thanked Dickerson during this distribution for his dedication, commitment to the community and for his exceptional representation of the Mountain Home Air Force Base Gunfighters. In honor of his work, the mayor presented Dickerson with a Mayor's challenge coin, a commemorative plaque and a flag that had been flown over City Hall. This was a particular emotional and poignant moment as the presentation fell on 9 / 11 and took place in front of an audience of active and retired soldiers turned volunteers.
In additional to honoring our military, the day also included altruistic efforts by other front line fighters. Health professionals from Desert Sage Health Centers, a health system based in the Mountain Home area, were on-site providing free COVID-19 testing to the participants of the distribution. Many drove away that day with a great deal of appreciation, peace of mind and meals for their families.