New Year Nutrition: Do It for the Health of It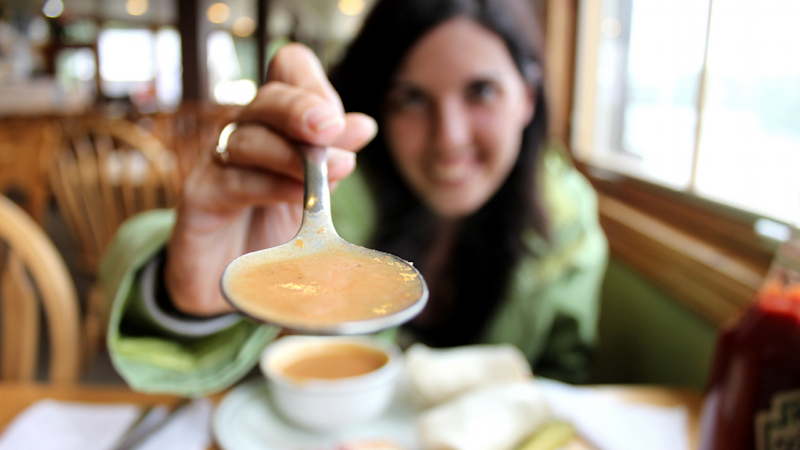 New Year Nutrition: Do It for the Health of It
By Carly Metcalf, RDN
With 2019 upon us, we have a lot to look forward to. As a registered dietitian, I frequently hear about New Year's resolutions. And make no mistake, weight loss is the name of the new-year game. Some goals are great and others could use some tweaking. If you are excited to start your new diet this year, let me give you some things to think about and offer up a healthy perspective that doesn't focus on weight but just may give you the results you want.
By and large, weight-loss diets don't work. There is strong research to support that sustainable weight loss is extremely hard to achieve. Many of those who lose weight will regain that weight in the years following, and many may even gain more in the end.
Here's something else to think about: Losing weight doesn't automatically make you healthier. There are many strong — and sometimes even stronger —  health indicators that have nothing to do with weight, such as blood pressure, blood sugar and heart rate. Health comes in many different shapes and sizes, and your health is not defined by the number on the scale.
Focusing solely on weight can have serious consequences that can decrease one's health.
"Concern has arisen that this weight focus is not only ineffective at producing thinner, healthier bodies, but may also have unintended consequences, contributing to food and body preoccupation, repeated cycles of weight loss and regain, distraction from other personal health goals and wider health determinants, reduced self-esteem, eating disorders, other health decrement, and weight stigmatization and discrimination." – Bacon, 2011.
This year, try this: Focus on healthy habits regardless of your weight status. When focusing only on weight, it is easy to get discouraged and give up despite other positive benefits of healthy habits.
Strict food rules with little wiggle room are a recipe for disaster. Just as it seems unnatural to limit water intake to specific hours of the day, bodies may respond adversely to overly strict rules and timelines. It's important to listen to your body all year long. Bodies are incredible. They tell us when to eat, when to stop, and everything in between. The trick is knowing how to listen.
How to make sustainable, healthy changes in the New Year:
Start with something measurable. For example, if you want to start moving more – a measurable goal to set might include the number of days you want to move per week or per month. Measurable could also mean lowering your heart rate by 5 bpm. Whatever it is, having a measurable outcome likely means having a number to go along with it.
Make sure it's attainable. If you want to move more, don't make a goal for 5 times per week if that is something that doesn't work with your schedule. Small steps are best.
Ask yourself, "Is this change realistic?" A significant reason why resolutions and goals fail is not because of the person or how motivated they may be – it's the goal itself. Set yourself up for success by making your goals realistic.
Make the goal timely. If it is a long term goal, make sure there are small in-between goals with a specific time-frame for completion to help you get to your long term goal. With no time limit, there is little accountability. If you want to start eating more green leafy vegetables, set your sustainable, measurable, attainable, and realistic goal with some time to get there. Whether that is a week or a month to start adding those healthy greens to your daily routine, make sure it has a time stamp on it.
Ever heard that saying, "Goals don't work unless you do?" I believe this can be true, but beyond the heavy lifting, make goals that are realistic to your lifestyle.
At The Idaho Foodbank, we understand that health isn't just about motivation. Health is multifactorial – and depends on many different aspects of life called determinants of health. Keep this in mind when making your goals for the New Year.
Examples:
If you're struggling for some healthy (non-diet) nutrition ideas – here are some ideas to start your year off on the right foot!
Pay attention to your body's appetites, needs and unique demands.
Eat a variety of foods.
If you tend to eat mostly carbohydrates, eat more protein (and vice versa).
Make sure you eat some fruits and vegetables. Aim for five servings of fruits and vegetables a day.
Make the grains you eat more whole grains.
References
Bacon, L. & Aphramore, L. Weight Science: Evaluating the Evidence for a Paradigm Shift. Nutrition Journaldoi: 10.1186/1475-2891-10-9
Recipes:
And here are some yummy winter soup recipes to help you along the way!
Bean and Veggie Soup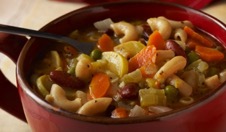 Recipe by: Cooking Matters
Serving Size: Serves 8, 1 cup per serving
Ingredients
2 medium carrots
1 small onion
2 medium cloves garlic
2 medium celery stalks
1 large tomato
1 medium yellow squash
1 (15½-ounce) can red kidney beans
1 Tablespoon canola oil
1 teaspoon dried basil or dried oregano
½ teaspoon salt
½ teaspoon ground black pepper
2 (14½-ounce) cans low-sodium chicken or beef broth
½ cup water
1 cup frozen green sweet peas
1 cup whole wheat pasta, such as wagon wheels, macaroni, or penne
¼ cup fresh parsley (Optional)
Materials
Can opener
Colander
Cutting board
Large pot
Measuring cups
Measuring spoons
Mixing spoon
Sharp knife
Vegetable peeler
Instructions
Peel carrots, onion, and garlic cloves. Rinse carrots, onion, celery, tomato, and squash.
Dice onion, celery, and tomato. Mince garlic.
Cut carrots and squash in half lengthwise. Place flat side down. Cut into thin, half-moon slices.
If using, rinse parsley. Pluck leaves from stems. Mince.
In a colander, drain and rinse beans.
In a large pot over medium heat, heat oil. Add carrots, onion, garlic, and celery. Cook until slightly soft.
Add dried herbs, salt, and pepper. Stir.
Add broth, water, tomatoes, squash, beans, and peas. Bring to a boil over high heat.
Add pasta. Reduce heat and simmer. Cook until pasta is tender, about 8–12 minutes.
If using parsley, stir into soup before serving.
Barley Jambalaya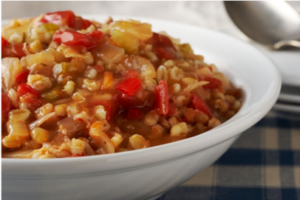 Recipe by: Chef Sarah McKay
Serving Size: Serves 6, 1 1/4 cups per serving
Ingredients
1 cup instant pearl barley
4 cups water
2 whole bay leaves
3 medium onions
2 medium celery stalks
1 medium green, red, yellow, or orange bell pepper
2 medium cloves garlic
1 Tablespoon canola oil
4 ounces ground turkey
2 (14½-ounce) cans diced tomatoes, no salt added
1 teaspoon salt
½ teaspoon ground cayenne pepper
1½ teaspoons dried oregano
1 teaspoon ground black pepper
Materials
Can opener
Colander
Cutting board
Large pot with lid
Measuring cups
Measuring spoons
Medium pot with lid
Mixing spoon
Sharp knife
Instructions
In Advance:
In a colander, rinse barley under cold water.
In a medium pot over high heat, bring barley, water, and bay leaves to a boil. Reduce heat to low and cover. Cook barley until tender and water is absorbed, about 20–30 minutes.
In a colander, drain barley. Set aside.
Preparation:
Peel, rinse, and dice onions. Rinse and dice celery and pepper. Peel and mince garlic.
In a large pot over medium-high heat, heat oil.
Add onions, celery, pepper, and garlic to pot. Mix well. Cook until veggies are soft, about 5 minutes.
Add ground turkey. Cook until turkey is cooked through, about 5 minutes more.
Add tomatoes and their juices. Bring to a simmer.
Add spices. Stir to combine. Cover and reduce heat. Cook at a low simmer for 15 minutes.
Add cooked barley to the mixture. Stir to combine. Add more water or broth, if needed. Cook over low heat to blend flavors, about 5–10 minutes more.
Remove bay leaves and serve.
Curried Chicken and Rice Soup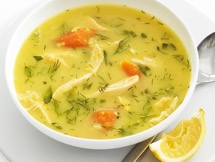 Recipe by: Food Network Kitchen
Serving Size: Serves 4
Ingredients
1 bone-in chicken breast (about 1 1/2 pounds), halved
2 medium carrots, sliced diagonally into 2-inch pieces
1 bay leaf
Kosher salt
6 cups low-sodium chicken broth
2 tablespoons unsalted butter
1 large onion, very thinly sliced
1 teaspoon sugar
1 1/2 teaspoons curry powder
1/3 cup jasmine rice
3 tablespoons finely chopped fresh mint
3 tablespoons chopped fresh dill
1 lemon, cut into wedges
Directions
Combine the chicken, carrots, bay leaf and a pinch of salt in a medium saucepan. Add 3 cups broth and bring to a boil; immediately reduce the heat to low, cover and cook until the chicken is just firm, about 20 minutes.
Meanwhile, heat the butter in another saucepan over medium-low heat. Add the onion, sugar and 1 teaspoon salt; cook until the onion is soft, 5 minutes. Add the curry powder and cook for 1 minute. Add the rice and the remaining 3 cups broth. Increase the heat to medium, cover and simmer until the rice falls apart, 15 to 20 minutes.
Remove the chicken from its broth; discard the skin and shred the meat into pieces. Return the shredded chicken to the same broth.
Puree the rice mixture with an immersion blender until smooth (or use a regular blender, then return to the pan). Pour in the shredded chicken and broth, stirring gently to combine; bring to a simmer. Toss in the chopped herbs and serve the soup with lemon wedges.
When blending hot liquid, first let it cool for five minutes or so, then transfer it to a blender, filling only halfway. Put the lid on, leaving one corner open. Cover the lid with a kitchen towel to catch splatters, and pulse until smooth.