Northwest Apple Salad | Cooking Matters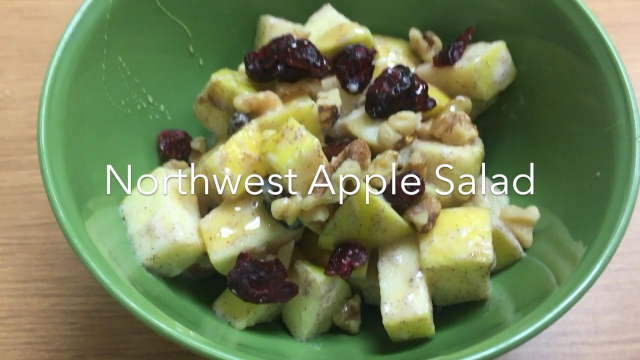 A special treat for National Nutrition Month! This Cooking Matters recipe video was created by Carly Metcalf. Carly is a Registered Dietitian and is The Idaho Foodbank's Nutrition Education Specialist.
Serving Size
Ingredients
2 medium Granny Smith apples
2 Tablespoons dried fruit, such as raisins, dried cranberries, or dried currants
3 Tablespoons plain low-fat yogurt
1 Tablespoon whole, shelled walnuts
Optional Ingredients:
Materials
Cutting board
Measuring spoons
Medium bowl
Sharp knife
Small skillet
Instructions
Rinse and remove cores from apples. Do not peel. Cut into 1-inch pieces. Place in medium bowl.
Add dried fruit and yogurt to bowl. Mix well.
In a small skillet over medium heat, toast nuts until golden brown and fragrant. Watch closely so they do not burn. Remove from pan and let cool.
Chop cooled nuts with a knife. Or, put in a plastic bag and crush with a can.
Add crushed nuts to bowl. If using, add honey. Toss and serve.
Chef's Notes
Use any kind of apple in this recipe.
Use any kind of nuts in place of walnuts. Or, omit nuts if someone has an allergy.