Seeing Hunger In The Family And Giving Back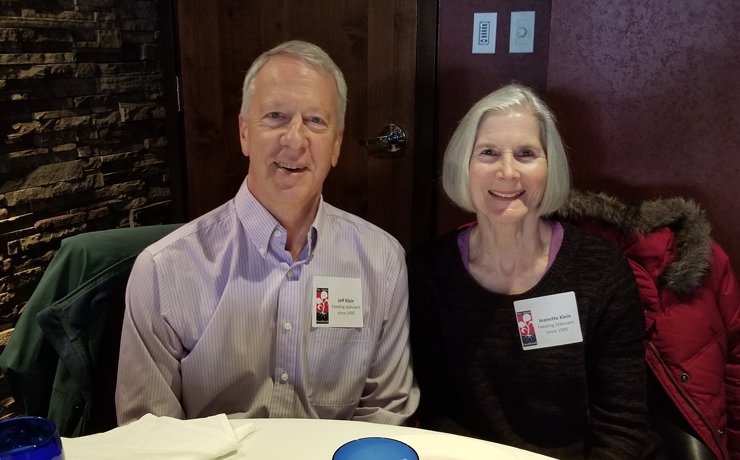 The ability to provide food for hungry Idaho families wouldn't be possible without donor funding. On Thursday, February 22nd, The Idaho Foodbank honored its longest-tenured financial supporters with a thank-you luncheon.
Two of the donors in attendance were Jeff and Jeanette, Idaho Foodbank supporters since 1995. Why did they start giving to the Foodbank?
"The need to help feed hungry people," Jeff said. "It's always been important. We decided that we couldn't give to any better place than the Foodbank."
Monetary donations are valuable to The Idaho Foodbank for two reasons: First, every dollar donated provides the food for 5 meals to feed hungry Idahoans. Second, money coming in to the Foodbank helps support valuable programs like Backpack and Picnic in the Park. Unaware of these services when they first started giving, Jeff and Jeanette learned about them when hunger hit their own family.
After a family member needed summer food assistance, Jeff and Jeanette became aware of Picnic in the Park, a food service program that provides children in low-income neighborhoods a nourishing lunch five days a week from June to August. Through their grandson's school, they also learned about the Backpack program which equips recipients with a backpack full of nutritious food every Friday during the school year.
"We've seen more and more of a need in places," Jeanette said. "And our dollars help in so many ways."
Jeff and Jeanette say they see many working families struggling to put food on the table through no fault of their own.
"It's tough to support a family on minimum wage," Jeff said. "People think if you need assistance it's because you're not working hard. That's not the case."
In addition to donating money, Jeff also donates his time to The Idaho Foodbank. Since he retired about 4 or 5 years ago, he has helped out Friday mornings with distributions at the southern Idaho warehouse. When partnering agencies come in to pick up food, Jeff helps them load their order. From zucchini to potatoes to brussels sprouts and everything in between, Jeff is reminded why he supports the Foodbank every time he puts food on a truck.
"There are so many people that need help," he said. "It feels good to give back."