Smithfield Foods, WinCo Foods Donate 38,000 Pounds of Protein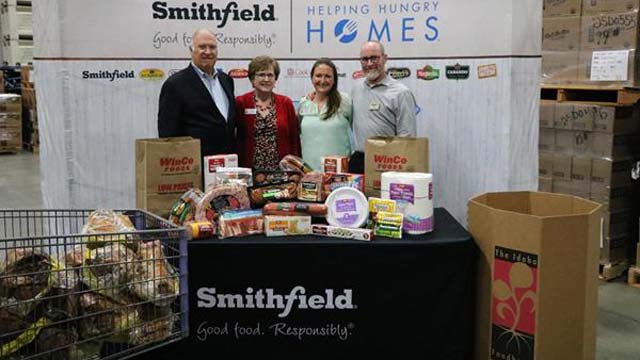 Smithfield Foods, Inc. joined forces with WinCo Foods to donate more than 38,000 pounds of protein to The Idaho Foodbank on May 22. Smithfield's contribution was part of the company's 2018 Helping Hungry Homes® donation tour. Now in the program's 10th year, Helping Hungry Homes® is Smithfield's signature hunger-relief initiative focused on alleviating hunger and helping Americans become more food secure. The donation, equivalent to more than 153,000 servings, will help families fight hunger across Idaho.
"At The Idaho Foodbank, our mission is to help feed, educate and advocate for Idaho's hungry through collaborative partnerships, and to develop efficient solutions that promote the health and well-being of individuals, families, and communities," said Karen Vauk, president and CEO of The Idaho Foodbank. "With this generous donation of quality protein products, Smithfield Foods is helping us provide Idahoans in need with food choices that are important for a healthy diet. We feel fortunate to have such an impactful ally in the fight against hunger."
Smithfield and WinCo Foods representatives presented the donation to The Idaho Foodbank at an event at the food bank this morning. Members of the organizations discussed food insecurity and the significance of this donation, which will be distributed to community partners throughout the state to benefit the more than 220,000 Idahoans who face food insecurity.
"Recognizing those in need and giving back to the community is extremely important to us at WinCo Foods," said Noah Fleisher, director of corporate communications of WinCo Foods. "We are honored to partner with Smithfield Foods on this donation to The Idaho Foodbank to help serve our neighbors in need throughout the local community."
This is the 23rd large scale protein donation made by Smithfield to food banks across the country during its 2018 Helping Hungry Homes® tour. Since the program's inception in 2008, Smithfield has provided more than 100 million servings of protein to food banks, disaster relief efforts, and community outreach programs nationwide.
"At Smithfield, we are proud to take a leading role and provide support to communities in need," said Dennis Pittman, senior director of hunger relief for Smithfield Foods. "With help from WinCo Foods and The Idaho Foodbank, today's donation will provide protein-rich meals to individuals facing food-insecurity within the Idaho community."
For more information about Smithfield Foods' Helping Hungry Homes® initiative and a list of upcoming donation events, visit helpinghungryhomes.com.