Steak and Vegetable Kabob Summer Recipe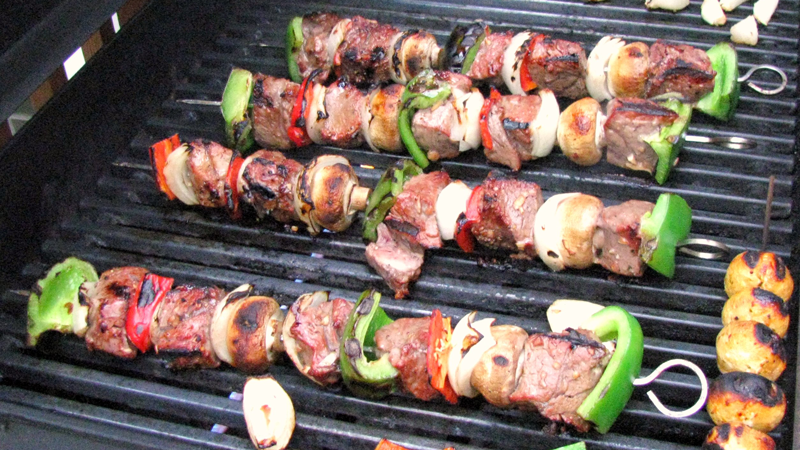 For many Idahoans, summer time means grill time. As part of beef month, our talented dietitian Alexa has shared a delicious recipe with beef and veggie kabobs that go straight from freezer to grill.
INGREDIENTS
1 1/2 pounds beef sirloin, cut into 1-inch cubes (ground beef can be rolled into cubes as a substitute)
2 tablespoons tamari or soy sauce
2 teaspoons packed dark brown sugar
1 1/4 teaspoons ground cumin
1 teaspoon paprika
1/4 teaspoon freshly ground black pepper, plus more for seasoning
1 medium red onion, cut into 1-inch chunks
1 medium red or yellow bell pepper, cut into 1-inch pieces
1 medium green bell pepper, cut into 1-inch pieces
1 tablespoon olive oil
Kosher salt
16 (9- to 10-inch) skewers, soaked in water if wooden
PREPARATION
Line a rimmed baking sheet with parchment paper. Place the sirloin cubes, tamari or soy sauce, sugar, cumin, paprika, and the 1/4 teaspoon pepper in a medium bowl and toss to thoroughly coat the beef with the spices; set aside.
Place the onion and bell peppers in a large bowl. Drizzle with the oil, season with salt and pepper, and toss to coat.
Thread the meat onto 8 of the skewers, about 6 cubes per skewer. Lay the skewers on the baking sheet. Cover the skewers with a second sheet of parchment. Thread the vegetables onto the remaining 8 skewers, alternating between 1 piece of bell pepper and 3 slices of onion. Place the skewers on the second sheet of parchment.
Freeze until solid, at least 3 hours or overnight. Wrap the entire baking sheet tightly in foil, or transfer the skewers to gallon-sized freezer zip-top bags, trimming the skewers if needed. Freeze for up to 2 months.
Heat an outdoor grill to medium-high (about 400°F). Place the frozen skewers on the grill (do in 2 batches if needed), cover the grill, and cook undisturbed until grill marks appear on the the beef, about 3 minutes. Using tongs, rotate the skewers a quarter turn, cover the grill, and grill 3 minutes. Continue rotating the skewers a quarter turn every 2 to 3 minutes until the vegetables are crisp-tender and the beef is at the desired doneness, about 10 to 12 minutes total for medium-rare beef. Remove to a platter and let sit 3 minutes before serving.
RECIPE NOTES
Oven cooking alternative: If you do not want to grill the kabobs, roast them on a baking sheet in a 400°F oven for 12 to 15 minutes instead.
Storage: Leftovers can be stored in an airtight container in the refrigerator for up to 4 days.