Thank you for making Hope for the Holidays such a success!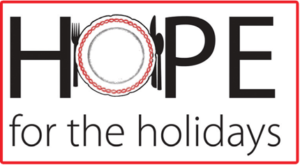 Our Hope for the Holidays campaign was a tremendous success in 2015, all thanks to the kindness and generosity of YOU.
In the final two months of the year, November and December, we distributed 3.3 million pounds of food, enough to provide the food for 2.75 million meals.
And that's just the beginning.
Thanks to the generous matching donations of $50,000 from Corwin Ford Nampa and $40,000 from the Camille Beckman Foundation, as well as other companies, corporations, foundations and individuals, we were able to raise $1.75 million dollars in the final two months of the year.
Hope for the Holidays is a pivotal fund and food drive for The Idaho Foodbank, and it will help us kick off 2016 by reaching as many of the 250,000 hungry Idahoans as possible.
For more information on companies who offered promotions, food drives and fund drives for The Idaho Foodbank in November and December, CLICK HERE.