The Famous Idaho Potato Bowl Announces Inaugural Albertsons Tackle Hunger Project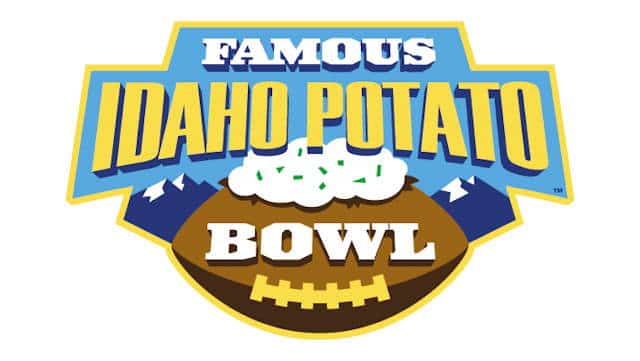 For Immediate Release
December 11, 2018
The Famous Idaho Potato Bowl Announces Inaugural Albertsons Tackle Hunger Project
The Famous Idaho Potato Bowl, in conjunction with Feeding Children Everywhere, Albertsons and The Idaho Foodbank, will work together to create more than 61,000 meals for Idaho's local communities
BOISE, Idaho – The Famous Idaho Potato Bowl (FIPB) will work with Feeding Children Everywhere (FCE) to produce packaged meals that will be distributed throughout Idaho's local communities.  Sponsored by Albertsons, the inaugural event "AlbertsonsTackle Hunger Project" is expected to produce more than 40,000 meals and will be distributed through The Idaho Foodbank to local communities. The production of the meals will help ensure that working families, children and seniors receive nourishing food and a balanced meal during this holiday season.
"Albertsons' involvement with the Famous Idaho Potato Bowl continues to grow, and we are excited to participate as the marque sponsor of this innovative event," said Gineal Davidson, vice president of  merchandising and marketing at Albertsons Companies Intermountain Division. "This year's event is aligned to Albertsons' mission of improving the health and well-being of our local community and connecting people through common action for an important cause."
The Albertsons Tackle Hunger Project builds upon the bowl's tradition of giving back through charitable food donations. Similar to the past several years, the bowl will be supplementing the meals with donated potatoes and beef from several stalwart Idaho companies, including  J.R. Simplot Company, Idaho Grower Shippers Association,  and the Agri Beef Co.  Donations from these organizations will result in thousands of pounds of potatoes and beef that is expected to produce an additional 21,000 meals that will have a positive impact this holiday season.
Hosted at Bishop Kelly High School on Monday, Dec. 17, the meals will be assembled by the two opposing teams competing in the 2018 Famous Idaho Potato Bowl.  The first of many community-oriented events during bowl week, the Albertsons Tackle Hunger project will rely on the brawn of the two teams, staff and university personnel, as well as community volunteers to assemble the meals in a 90-minute flurry of activity.  Albertsons is expecting that as the music blares, hairnets are applied and meals are packaged, that the assembly line will result in a competitive and productive event that results in the teams working side-by-side to make a real impact to stop hunger.
"Feeding Children Everywhere is changing the way that we address hunger here in the states and across the globe," said David Green, CEO of FCE.  "We are excited to partner with the Famous Idaho Potato Bowl to create a fun and meaningful event.  The meals produced will add to the more than 110,000,000 meals that have been created and distributed since we started in 2010.  I want to thank Albertsons for sponsoring this event and look forward to seeing how many meals can be produced by this year's bowl participants."
"This year's event is especially timely, as The Idaho Foodbank works to deliver 2.7 million meals in the last two months of the year to thousands of Idahoans who struggle to put food on the table," said Karen Vauk, President and CEO of The Idaho Foodbank. "This collaboration is an excellent example of like-missioned organizations partnering to exponentially increase the impact to the food insecure that we serve every day."
The addition of 61,000 meals supports The Idaho Foodbank's vision of a hunger-free Idaho and as it serves approximately 179,000 Idahoans who face food insecurity during the holiday season and throughout the year.
"It is important to the Bowl committee to expand on its charitable donation efforts every year. With the support of Albertsons, we are able to make this year's event a reality and provide a substantial amount of meals and nutrients that we hope will feed more than 61,000 people locally and across the state," said Kevin McDonald, executive director of the Famous Idaho Potato Bowl.  "Boise's business community is unique in its support of local charities, and I would like to recognize each of the key sponsors, especially Albertsons, in allowing the bowl to better the community that we live in."
The Famous Idaho Potato Bowl will host Western Michigan from the Mid-American Conference and BYU on Friday, Dec. 21, at 2 p.m. MT, at Albertsons Stadium in Boise, Idaho.  Tickets for the Famous Idaho Potato Bowl are on sale to the general public through famousidahopotatobowl.com or the Albertsons Stadium ticket office. Reservations for premium ticket packages are currently available, which include prime ticket locations, hospitality benefits in tent village and corporate exposure. For more information, contact the Famous Idaho Bowl office at (208) 424-1011.
The FIPB recognizes the positive impact teams, coaches and student-athletes have in their communities and their leadership roles in promoting humanitarian efforts. For more information, visit www.famousidahopotatobowl.com.
ABOUT FEEDING CHILDREN EVERYWHERE
Feeding Children Everywhere is activating people for a hunger-free world. Since 2010, FCE has activated more than 750,000 volunteers to package over 110,000,000 meals for hungry people in the U.S. and around the globe. Discover the Hunger Hero within you at feedingchildreneverywhere.com.
ABOUT ALBERTSONS COMPANIES
Albertsons Companies is one of the largest food and drug retailers in the United States, with both a strong local presence and national scale. Based in Boise, Idaho, we have stores in 35 states and the District of Columbia under 20 well-known banners, with firm local roots in thousands of American communities.
We strive to earn the reputation as the Favorite Local Supermarket™ in every neighborhood through a rich tradition of service. And while we're proud of that history, we're equally eager for what the future holds.
Albertsons Companies is committed to meeting customers whenever, wherever, and however they want to shop. We run one of the largest e-commerce platforms in the country and are harnessing big data to deliver more of the products that customers want at prices they can afford through loyalty programs like Just for U.
Most importantly, however, our 275,000 employees care deeply about the communities they live and work in. In 2017 alone, along with the Albertsons Companies Foundation, the company gave nearly $300 million in food and financial support. These efforts helped millions of people in the areas of hunger relief, education, cancer research and treatment, programs for people with disabilities and veterans outreach.
About The Idaho Foodbank
The Idaho Foodbank is an independent, donor-supported, nonprofit organization founded in 1984, and is the largest distributor of free food assistance in Idaho. From warehouses in Boise, Lewiston and Pocatello, the Foodbank has distributed more than 170 million pounds of food in its 34-year history. In the last fiscal year, the Foodbank distributed enough food to provide more than 15.5 million meals to Idaho families. Visit idahofoodbank.org for more information.
ESPN Events
ESPN Events, a division of ESPN, owns and operates a large portfolio of 32 collegiate sporting events worldwide. The roster includes three Labor Day weekend college football games; FCS opening-weekend game; 15 college bowl games, 10 college basketball events, a college softball event and two college award shows, which accounts for approximately 375-plus hours of live programming, reaches almost 64 million viewers and attracts over 800,000 attendees each year. With satellite offices in Albuquerque, Birmingham, Boca Raton, Boise, Dallas-Fort Worth, Honolulu, Las Vegas, Montgomery and St. Petersburg,ESPN Events builds relationships with conferences, schools and local communities, as well as providing unique experiences for teams and fans. ESPN Events also manages the Big 12 Corporate Partner Program.
For more information, visit the official website, Facebook,Twitteror YouTube pages.
-30-
Famous Idaho Potato Bowl Media Contact: Lindsay Moser O: 208.424.1011 C: 509.430.3232 or idahopotatomedia@gmail.com
FIPB Bowl for Charity Media Contact: Bill Cox (208) 863-6302 or bill@experiencecom.com
ESPN Media Contact: Anna Negron at 860-766-2233 or anna.m.negron@espn.com; @ItsAnnaNegron