The Idaho Foodbank Scores $20,000 from "Sacks for Hunger," an Albertsons and Boise State Broncos Partnership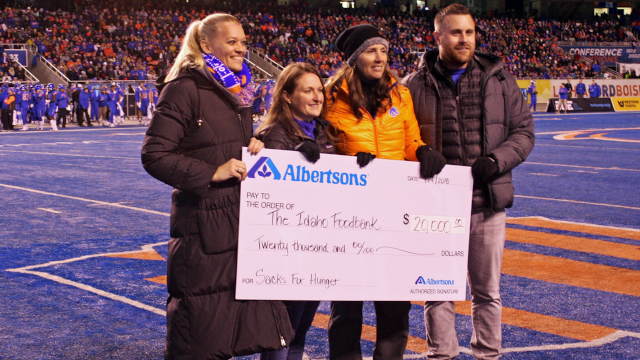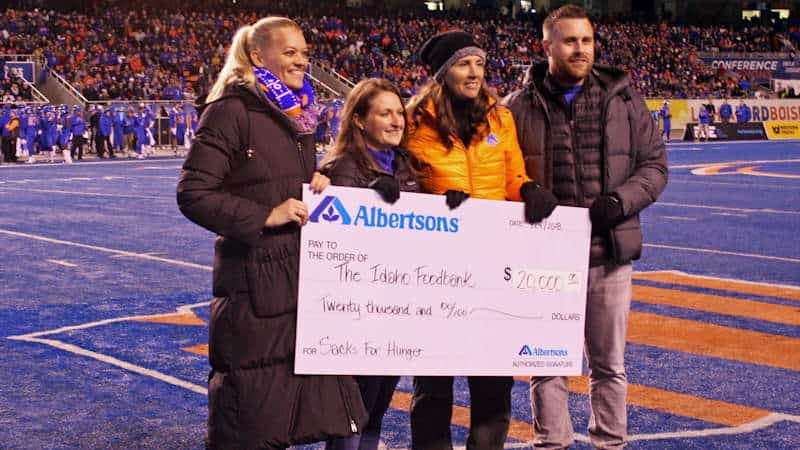 November 26, 2018, Boise, ID – The yearly tradition of "Sacks for Hunger" has resulted in a generous donation of $20,000 from Albertsons. The check presentation took place on Saturday, November 24, 2018, during the final home game of the Boise State Broncos 2018 season, a matchup against Utah State. The Idaho Foodbank wasn't the only winner on Saturday; the Broncos took the win 33-24, landing them in first place in their division and sending them to the Mountain West Championship against Fresno State.
For each sack the Broncos defense tallied this 2018 season, Albertsons donated $500 for a total donation up to $20,000 for the 2018 season. Going into Saturday's game, the Boise State Broncos had accumulated 36 sacks. Just shy of 40 sacks, Albertsons showed its ongoing commitment to support The Idaho Foodbank's vision of a hunger-free Idaho by donating the full $20,000. Because each dollar donated can provide enough food for five meals, The Albertsons Sacks for Hunger donation can provide enough food for 100,000 meals to those who face food insecurity in Idaho.
In the foodbank's past two fiscal years, Albertsons donated the equivalent of more than 4.5 million meals in food alone through campaigns like Turkey Bucks, Santa Bucks and many other gifts throughout the year. Since the beginning, Albertsons has set itself apart as a partner in hunger relief, even serving a position on the Foodbank's Board of Directors. In addition, The Idaho Foodbank receives strong support from Albertsons employees and customers.
The Idaho Foodbank is an independent, donor-supported, nonprofit organization founded in 1984, and is the largest distributor of free food assistance in Idaho. From warehouses in Boise, Lewiston and Pocatello, the Foodbank has distributed more than 170 million pounds of food in its 33-year history. In the last fiscal year, the Foodbank distributed enough food to provide more than 15.5 million meals to Idaho families. The Foodbank distributes food through a network of more than 400 community-based partners. These include schools, pantries, senior centers, feeding sites, and shelters. The Foodbank also operates direct-service programs that promote healthy families and communities through good nutrition. Visit idahofoodbank.org for more information.
About Albertsons Companies
Albertsons Companies is one of the largest food and drug retailers in the United States, with both a strong local presence and national scale. The company operates stores across 35 states and the District of Columbia under 19 well-known banners including Albertsons, Safeway, Vons, Jewel-Osco, Shaw's, Acme, Tom Thumb, Randalls, United Supermarkets, Pavilions, Star Market, Haggen and Carrs. Albertsons Companies is dedicated to helping people across the country live better lives. In 2015 alone, with the help of generous customers, Albertsons Companies and the Albertsons Companies Foundation gave more than $270 million in food and financial support to the more than 2,300 communities they serve, improving the lives of millions of people in the areas of hunger relief, education, cancer research and treatment, programs for people with disabilities, and veterans outreach. Albertsons Companies is committed to making a meaningful difference, neighborhood by neighborhood.