The Idaho Foodbank teams up with Idaho Steelheads, Idaho Beef Council for special distribution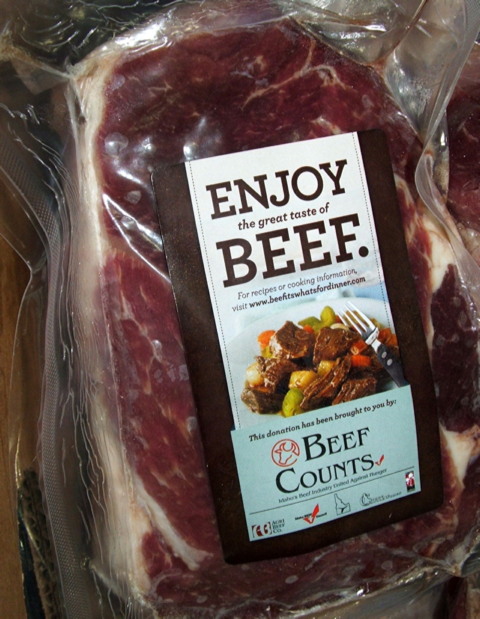 GARDEN CITY, ID – The Idaho Foodbank distributed more than 200 pounds of beef on Tuesday, thanks to the help of members of the Idaho Steelheads, beef producers and the Idaho Beef Council.
The distribution happened in Garden City near a senior community with high levels of need. More than 70 seniors signed up for the special distribution, which included beef, produce and shelf-stable foods.
"This was a good example of the great partnerships that help in the effort to solve hunger," said Karen Vauk, President and CEO of The Idaho Foodbank. "Protein is one of the most important aspects of nutrition and one of the most difficult types of food to provide. What a great product to distribute to our friends and neighbors in need."
Food-insecure seniors are more likely to have to decide between purchasing food or buying needed medications. New mobile pantries, Cooking Matters classes and senior-specific food boxes are part of The Idaho Foodbank's strategy to help more seniors in Idaho.
"High quality protein is a powerful nutrient that plays an important role in maintaining strength and staying healthy," said Traci Bracco, Executive Director of the Idaho Beef Council. "When you're food scarce, every calorie and nutrient counts.  Beef is a high-quality protein that makes you feel full longer and provides you with 10 essential nutrients and vitamins, which is important for good health."
In 2010  Beef Counts was formed, community campaign to provide hungry Idahoans with nutrient-rich beef. Since then, Idaho's cattle ranching families have donated cash and cattle equating to more than $465,000 dollars to The Idaho Foodbank  – – which is over 915,000 beef meals to families in need across Idaho.
Each single beef animal donated by farmers and ranchers provides roughly 1,600 servings of high quality beef protein.