The kids come first: Yvette's story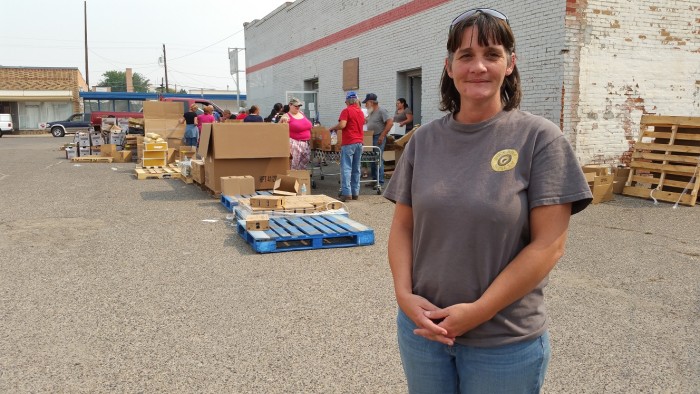 [blockquote quote="It was when I couldn't work anymore and I couldn't really afford to feed my family. I had to come down here and start getting food."]
For Yvette, the mobile pantry at WICAP in Weiser is more than just a place to get food.
"I love it. I come down here, I volunteer," said Yvette, a volunteer and recipient at the Mobile Pantry distribution at WICAP in Weiser. "I get along with the staff here really great. I have a good time. I like to help people out. I'm a people person. It's nice. You get to meet different people and it's a blast. Just being able to give back is what it's really all about."
But coming down to the Mobile Pantry hasn't always been that easy for Yvette.
"I think a lot of (the resistance to asking for help) has to do with people's pride. I know when I first had to do it, it was my pride (that got in the way)," she said. "I have a hard time asking for help and it takes a lot for me to ask for help. And I had to do it. I had to just kind of suck it up and do it and ask for help. I don't like to but I did it and it's been great ever since and I'm glad that I come down here and get the help that I need from them."
What gave her the courage to finally ask for help?
Yvette says she could have gone a lot longer without food for herself, but it was her children who helped motivate her to turn to The Idaho Foodbank when a medical condition rendered her unable to work.
"It's hard sometimes being a single mom, but I do it. I just fight through it and I'd rather me go without food than my kids go without food," Yvette said. "I've gone many a times without a meal when we've gotten low because my kids have needed to eat. They get mad at me because I don't eat and I'm like, 'Nope, you guys are more important right now. I can survive, but you guys can't. You guys need it more than I do.'"
Yvette credits WICAP, The Idaho Foodbank and a strong family support system for helping get her through her time of struggle — a time that is likely to continue for some time.
And that's why she says she's speaking up now. She says she wants supporters, recipients — anyone associated with the effort to solve hunger in Idaho — to know people are being helped by the work being done all over our state.
"There are people out there that can't afford (food)," Yvette said. "This is a good thing what they're doing and it's very much appreciated. Even if it's just a little bit, it's very much appreciated for the people who can't afford a whole lot of food."