They've Helped Me More Than I Can Repay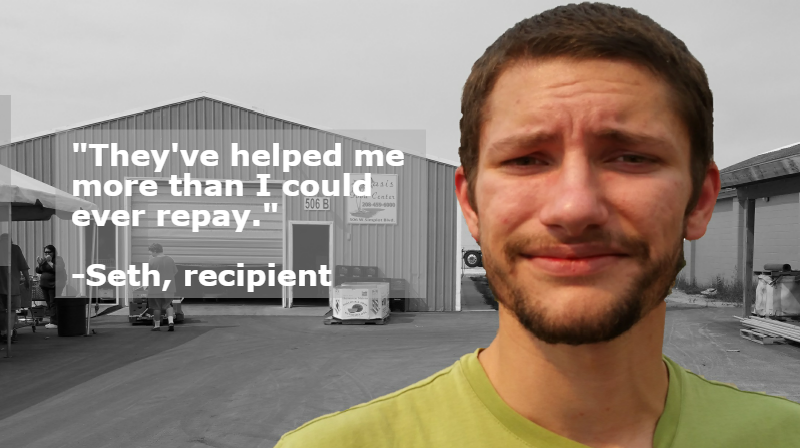 For the 250,000 Idahoans who may not have food in their pantries, winter can be a brutal season fraught with tough choices.
Does one pay their gas bill or use what's left in their bank account to purchase food?
Each person struggling with hunger has their own choices. For Seth F., a food recipient from Caldwell, as temperatures plummeted and snow and ice arrived, his choice was whether to go hungry or walk the five miles each way to the nearest food pantry.
Ten total miles in the elements, for an opportunity to return with a box of food to sustain him until his next opportunity.
"I don't have a driver's license; I don't have a ride," Seth says. "Trying to carry a food box on a bicycle that far is difficult. It's easier walking."
Seth uses a rolling suitcase to transport the food, as carrying the box for five miles would cut off circulation in his fingers and leave him in pain when he makes it home.
Still, Seth keeps a positive attitude.
"Lucky for me, the cold has never really bothered me," he says.
Seth says he looks for work at least an hour every day at the library where he can find a working computer with internet access. Then, twice a year, he says he walks through Caldwell and drops off his applications at local businesses. So far, he's yet to find employment.
At 23 years old, Seth says the walk to the local pantry isn't difficult for him, partially because of the people with whom he gets to interact when he arrives there – both volunteers and other recipients.
"The people working there are great people," he says. "There are just a lot of nice people at the food bank. People will let me sit in their cars to get warm. They'll talk to me. There's so much kindness."
So, Seth says he'll continue looking for work. He says his main goal is to earn a degree and a career in graphic arts. For now, though, he's looking for any job to get some experience under his belt. He says the pantry is his lifesaver.
"I'd go hungry half the days of the week, or be going off toast or a sandwich once a day every day (without the pantry)," he said. "Honestly, without it I wouldn't be in as good health as I am. I wouldn't have met the truly trustworthy people I can talk to. They've helped me more than I could ever repay."