Tips for a Healthy Holiday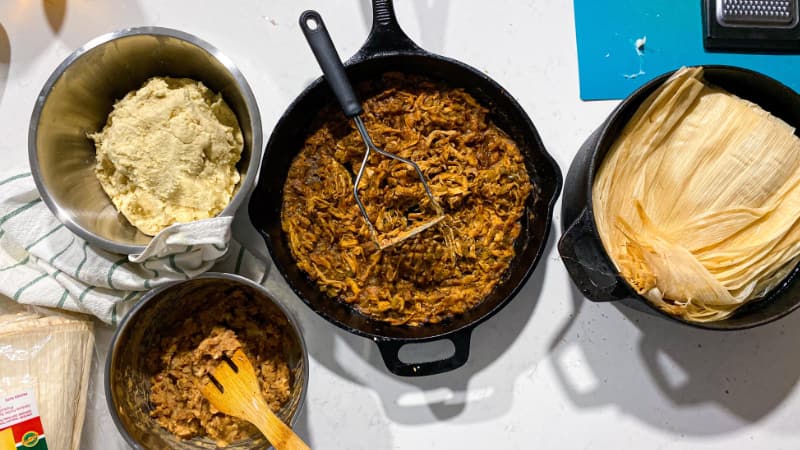 People celebrate holidays in all sorts of ways, but one theme remains: good food! Tamales are a traditional Hispanic delicacy that one may find at dinner tables during the holidays. Tamales have a rich history in Aztec culture dating back to 7,000 B.C. It is one of those delicious, indulgent foods that make it hard to have just one — after all, tamales come in a big batch! Food is an intimate aspect of every household and is directly related to health. Traditional tamales can be high in fat and sodium, so it is a good idea to combat that with some greens on the side. "MyPlate" is a tool that can help you maintain a balanced diet during the holidays by showing you how to build a more nutritionally complete plate at each meal.
MyPlate has five food categories: fruits, vegetables, grain, protein and dairy. Using three of the five food groups equates to a balanced meal. A good rule of thumb is to make half of your plate fruits and vegetables. Depending on the variation of tamale, it may be composed of all five food groups. Traditional tamales are made with masa (corn flour), and pork filling. One way to balance this meal is to include verduras (vegetables) in the filling, such as jalapenos, carrots, or bell peppers. Look in your pantry to see what canned vegetables are around – pickled jalapenos are an easy one (remember to rinse off that extra sodium). You could also serve vegetables on the side – Calabasas (squash) and corn with onion and tomatoes are an excellent pairing with tamales. While tamales contain helpful nutrients like fiber, they are also high in fat and sodium. It is beneficial to stick to the recommended serving size (1 tamale). Utilizing the USDA MyPlate information is also a good guide for portion sizes. Keeping that portion size in mind is better for your body, and you can still enjoy tamales and other delicious holiday food with family and friends.
Recipe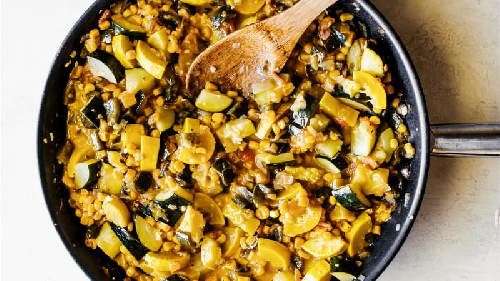 Check out this calabacita (little squash) recipe made by first generation Mexican-American Isabel!
Calabacitas Recipe – Isabel Eats [vector_icon icon="fas fa-external-link-alt"]
Ingredients  
Zucchini
Yellow squash
Onions and garlic
Jalapeno and poblano peppers
Plum tomatoes
Canned corn
Salt, black pepper, ground cumin
Shredded cheddar cheese
Milk
Directions
Sauté the vegetables: Sauté the onions and peppers for 5 minutes. Then add the corn and tomatoes, and sauté for 5 minutes. Finally, add the squash and all the seasonings, and sauté for 5 more minutes.
Cover and simmer: Add in 1/4 cup water, reduce the heat to simmer, cover and cook for 5 minutes to tenderize the zucchini.
Make the sauce: Add the shredded cheese and milk. Mix everything together until the cheese has melted and formed a light sauce. Immediately remove the pan from the heat.
Garnish: Top with chopped cilantro and crumbled cotija cheese. Serve and enjoy!