Visit from Feeding America CEO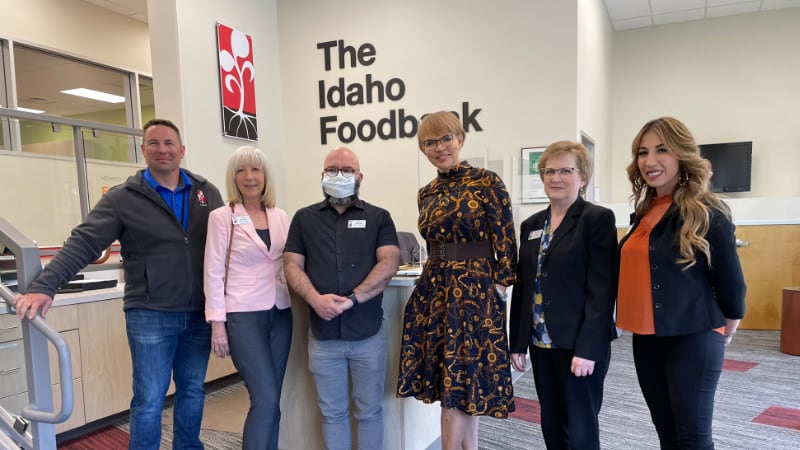 Claire Babineaux-Fontenot, the CEO of Feeding America, visited The Idaho Foodbank at the end of May. The Idaho Foodbank is part of the Feeding America network of over 200 food banks across the country. Feeding America is the largest hunger-relief organization in the United States. 
"Every time I have the privilege of visiting a Feeding America network member food bank, I am inspired by the people I meet and their commitment to ensuring community members have access to the food and resources they need," said Claire Babineaux-Fontenot, CEO of Feeding America. "The staff and volunteers at The Idaho Foodbank, and their partner food pantries and meal programs, provide an essential service across Idaho." 
During her visit, Ms. Babineaux-Fontenot was able to tour our facility in Meridian. She also met with The Idaho Foodbank's staff and members of The Foodbank's Board of Directors. We were able to discuss some of the challenges and successes in addressing food insecurity in Idaho. The Idaho Foodbank serves the state of Idaho through a network of over 465 partners.  
"We appreciate Claire taking the time to visit our facility and learn first-hand about the work we do," said Karen Vauk, President and CEO of The Idaho Foodbank. "It was great to discuss the challenges facing rural states like Idaho, as well as our work to make more nutritious food available to those who are facing challenging times." 
 In 2018, Ms. Babineaux-Fontenot became the CEO of Feeding America. Prior to that, she was on Walmart's leadership team for 13 years. Her career has also included dispute resolution work at PwC, work at the Office of Legal Affairs for the State of Louisiana, and leading the Baton Rouge office of Adams and Reese, LLP. Originally from Louisiana, she has a Juris Doctor from Southern University Law Center and a Master of Laws in Taxation from Southern Methodist University Dedman School of Law. 
We were honored to welcome a national leader in the work to address food insecurity.