Volunteer Spotlight: East Boise Community Reentry Center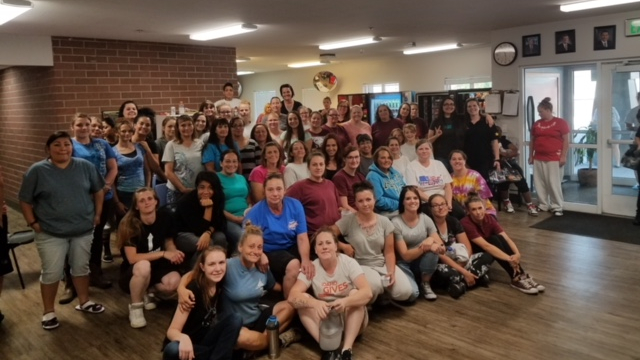 For women at The East Boise Community Reentry Center, the gift of a second chance is precious. The ability to start a new chapter gives them a sense of purpose and helps provide the necessary steps for their successful transition back into the community. Fortunately for them, volunteering at The Idaho Foodbank provides such an opportunity.
The East Boise Community Reentry Center houses 124 female clients for the Idaho Department of Corrections. These women work and volunteer in the community on a daily basis in an effort to build a solid foundation for a better future. They are a hardworking, inspirational group. As individuals, each finds strength in unity as they volunteer weekly at The Idaho Foodbank. They have many different life experiences and yet they all have at least one thing in common — their desire to help get food to hungry Idahoans.
The women who make up this group have signed up for over 30 volunteer events this year at The Idaho Foodbank. They've become Harvest Heroes by helping sort and repack fresh produce for hungry Idaho families.
What are Harvest Heroes, you ask? In the late summer and early fall as farmers and growers harvest their crops, The Idaho Foodbank receives an abundance of fresh fruits and vegetables, all of which is distributed to all 44 counties in the state. Because the produce is perishable, time is of the essence, and an all-hands-on-deck approach is necessary to ensure that the produce is received, repacked and distributed as efficiently as possible.
Volunteers who come in consistently during harvest season are known as Harvest Helpers. Volunteers who go above and beyond this hard-working collection of generous time givers are known as Harvest Heroes. Without a doubt, The East Boise Community Reentry Center group of volunteers deserve this important distinction. They are heroes.
"We try to allow them opportunities to promote positive change by letting them pursue financial and social stability with jobs and different community interactions," said Jim Dixon of the Reentry Center. "As a facility, we are trying to promote more community involvement where the ladies experience interaction with the community and spend time with people who are promoting a positive environment for others."
Being at the reentry center provides these women with financial and career support. The staff are committed to helping them give back to the community and develop healthy life skills. For these dedicated women, giving back is part of their vision for moving forward.