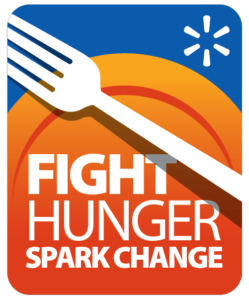 April 2, 2018 – Walmart kicked off its fifth annual nationwide "Fight Hunger. Spark Change." campaign today online and in stores by asking its 150 million weekly shoppers to raise the bar to support the Feeding America network of 200 local food banks and the one in eight people who battle hunger in America at some point during the year.
Beginning today through April 30, Walmart is offering four easy ways that customers can get involved and fight hunger online, in-store and through social sharing to help secure meals for local food banks. Visit Walmart.com/fighthunger for further details. Here are the ways customers can participate in the fight against hunger.
Purchase Product: For every participating product purchased at U.S. and Puerto Rico Walmart stores or on Walmart.com from April 2 – April 30, 2018, the supplier will donate the monetary equivalent of one meal ($0.10) on behalf of a Feeding America member food bank, up to applicable limits. Participating suppliers represent some of the nation's leading food companies: General Mills, The Coca-Cola Company, Kellogg, Kraft Heinz, PepsiCo/Frito-Lay/Quaker, Bush Brothers, Clorox Sales Company, Conagra, Motts, Unilever, Maruchan, Pinnacle Foods, Post, and JM Smucker.
Donate money to your local Feeding America food bank at participating Walmart stores in the U.S. and Puerto Rico. Donations can be made at the register to local Feeding America food banks in increments of $1, $2, $5 or an amount chosen by the customer. Donating is also an option at the self-checkout (Scan and Go) register. When customers click "Finish & Pay" on totals over $10, it will trigger the prompt with details on donating.
Make an online act of support: For every traceable post of campaign content with #FightHunger on Instagram and for every traceable share or retweet on Facebook and Twitter of campaign content, Walmart will donate $10.00 to Feeding America and for every click on the support button on the program website, Walmart will donate $1.00 to Feeding America, up to $1.5 million.
Use the Walmart Credit Card: Synchrony Bank will donate the monetary equivalent of one meal ($0.10) for each Walmart Credit Card transaction made at Walmart stores and on Walmart.com during the campaign, up to $750,000.
Idaho Store Locations
[maplist categories="808″ geoenabled="true" hidecategoriesonitems="true" categoriesaslist="true" simplesearch="true" hidefilter="true" locationsperpage="15″]