Albertsons and Boise State Kick off Another Season of "Sacks for Hunger" for The Idaho Foodbank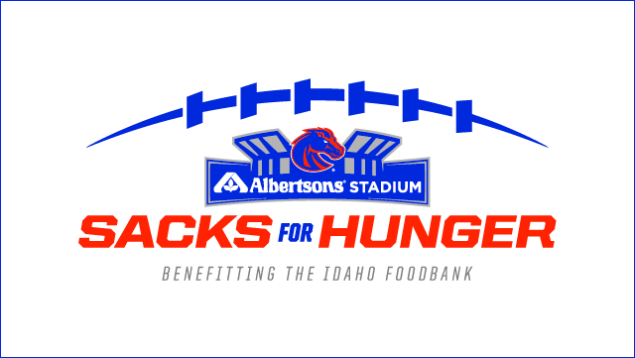 While Boise State football fans revel in this past weekend's 62-7 Boise State University victory over Connecticut, The Idaho Foodbank has its collective eye on another football statistic that sets the opposing offense back and The Idaho Foodbank forward on its mission to provide food to hungry Idahoans.
In 2018, Albertsons is once again teaming with Boise State football with its yearly tradition of "Sacks for Hunger," a unique way to raise funds to help provide food for the roughly 179,000 people The Idaho Foodbank serves each month. For each sack the Broncos defense tallies this season, Albertsons will donate $500, up to $20,000 for the season.
Because each donated dollar provides enough food for five meals, the six sacks in the first two games of the season already have $3,000 in donations from Albertsons or enough food for 15,000 meals. Strongside linebacker Desmond Williams got the Broncos' first sack of the season in the 56-20 victory over Troy.
"Albertsons continually puts a powerful foot forward in the effort to solve hunger," said Karen Vauk, President and CEO of The Idaho Foodbank. "Sacks for Hunger is just another example of their priority on how the company, its employees and its customers dedicate themselves to serving their communities and giving back to the Idahoans who need it most."
Last season, Boise State defensive player Curtis Weave racked up 11 sacks, ultimately providing enough food more than 27,500 meals through the Boise State and Albertsons partnership. In all, the 2017 team completed 30 sacks.
In the foodbank's past two fiscal years, Albertsons donated the equivalent of more than 4.5 million meals in food alone through campaigns like Turkey Bucks, Santa Bucks and many other gifts throughout the year. Since the beginning, Albertsons has set itself apart as a partner in hunger relief, even serving a position on the Foodbank's Board of Directors. In addition, The Idaho Foodbank receives strong support from Albertsons employees and customers.
The Idaho Foodbank is an independent, donor-supported, nonprofit organization founded in 1984, and is the largest distributor of free food assistance in Idaho. From warehouses in Boise, Lewiston and Pocatello, the Foodbank has distributed more than 170 million pounds of food in its 33-year history and in the last fiscal year, enough food to provide more than 15.5 million meals to Idaho families. The Foodbank distributes food through a network of more than 400 community-based partners. These include schools, pantries, senior centers, feeding sites, and shelters. The Foodbank also operates direct-service programs that promote healthy families and communities through good nutrition. http://idahofoodbank.org/