Annual Study Reports Food Insecurity in Idaho Improving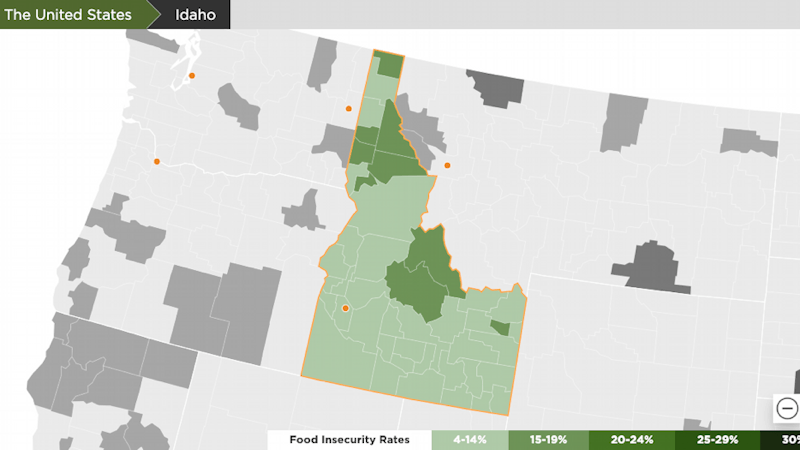 Childhood hunger remains higher than overall state numbers
BOISE, ID – May 1, 2019
An annual study released by Feeding America is showing the continuation of a positive trend in the total number of Idahoans who are food-insecure. The Map the Meal Gap report provides critical information including food insecurity rates for both the state and county level as well as the family budget shortfall for food-insecure Idahoans. Overall, the state's numbers improved by 0.9 percentage points. Unfortunately, one in eight Idahoans and one in six children is still food insecure.
"Since 2013 when this report showed the highest food insecurity numbers for our state, overall food insecurity has decreased by 23 percent, and child food insecurity has decreased by 27 percent. This is encouraging to see, and is reflective of the economic recovery after the Great Recession," said Karen Vauk, President and CEO of The Idaho Foodbank.
According to the report, Idaho's food insecurity rate is 12.3 percent of the total population of the state, or 210,420 individuals. This is down from 13.2 percent of the total population, or 221,800 people in last year's study. The report also found food insecurity affects 15.8 percent of Idaho's children under 18 years old, or 69,920 children. This is down from 16.7 percent and 72,840 children in the 2018 study.
"This is positive news for over 11,000 Idahoans who are no longer considered food insecure," said Vauk. "Even with the good news, it's important to remember there are more than 210,000 people who still need our help. We are most concerned with the counties showing increases in either overall or child food insecurity."
Through its new initiatives, programs, services and food distribution, in its last fiscal year, The Foodbank distributed food to an average of 179,000 people each month across Idaho's 44 counties.
Idaho has ten counties with childhood hunger at 19 percent or higher, this is down from 12 counties last year. The range for child food insecurity was highest in Shoshone county, which reported 21.8 percent, better slightly from last year's report of 22.1 percent, and lowest in Valley county at 13 percent.
Idaho counties with 20 percent or higher child food insecurity rates are Camas (20.8 percent), Lemhi (20.8 percent), and Owyhee (20.0 percent). Blaine, Boundary, Camas and Latah County all saw an increase in childhood hunger from last year.
According to the study, the county with the highest overall food insecurity is Madison at 19%. The county with the lowest overall food insecurity is Power at 8.6 percent. Two counties in Idaho have seen an increase in overall food insecurity, Clark (11.6 percent) and Power County (8.6 percent).
The data showcases the diversity of Idaho and the complexity of serving both urban and rural communities. Additionally, while the overall number of Idahoans who are food-insecure has gone down, the percentage of food insecure people with earnings above the threshold for SNAP, also known as food stamps, continues to grow.
Starting in 2011, Map the Meal Gap, the only study that provides local-level estimates of food insecurity across the United States has provided critical information about the nature and extent of hunger in communities. This year's report is based on data from 2017.
Feeding America conducts the Map the Meal Gap study to provide a better picture of hunger at the national, state, and county level, and to promote geographically targeted solutions to support people in need. The Idaho Foodbank reviews these numbers closely to assess state and county-level needs, then works with community leaders and nonprofit partners to provide the food, programs and services needed to help those who are struggling. For detailed county-level information visit:
About The Idaho Foodbank
The Idaho Foodbank is an independent, donor-supported, nonprofit organization founded in 1984, and is the largest distributor of free food assistance in Idaho. From facilities in Boise, Lewiston and Pocatello, the Foodbank has distributed more than 170 million pounds of food in its 35-year history. In the last fiscal year, the Foodbank distributed enough food to provide more than 17.5 million meals to Idaho families. The Foodbank distributes food through a network of more than 400+ community-based partners. These include schools, pantries, senior centers, feeding sites and shelters. The Foodbank recognizes the connection between hunger and health and operates direct-service programs in communities to promote good nutrition and healthy living. Visit www.idahofoodbank.org for more information. Find us on Facebook and follow us on Twitter.
###