Annual Study Shows Progress in Effort to Solve Hunger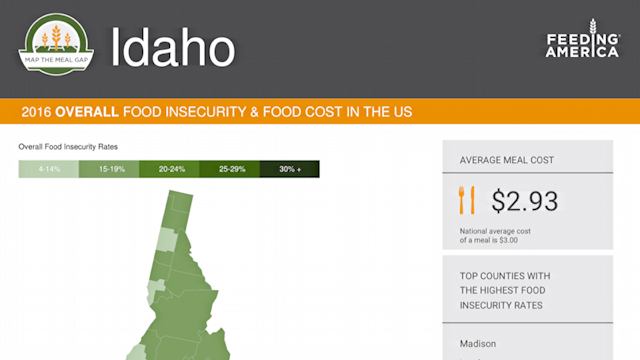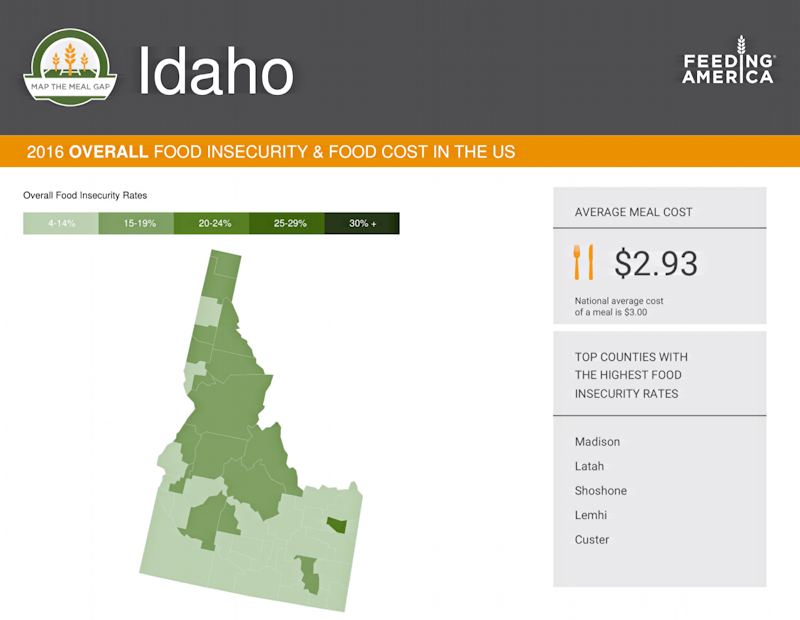 For the fifth consecutive year, an annual study released by Feeding America is showing a positive trend in the total number of Idahoans who are food-insecure. This year's Map the Meal Gap report, based on data from 2016, provides critical information including food insecurity rates for both the state and county level as well as the family budget shortfall for food-insecure Idahoans.
According to the report, Idaho's food insecurity rate is 13.2 percent of the total population of the state, or 221,800 individuals. This is down from 14 percent of the total population, or 232,180 people in last year's study. The report also found food insecurity affects 16.7 percent of Idaho's children under 18 years old, or 72,840 children. This is down from 17.6 percent and 76,070 children in the 2017 study.
The encouraging news comes with some difficult news for nonprofits like The Idaho Foodbank, which endeavors to provide food assistance and education to those individuals who are food insecure. While the number of Idahoans who are food-insecure has dropped, the number of those individuals who can't access SNAP benefits because of income qualifications has risen, meaning more individuals who are coming up short and reliant on food banks and pantries to help fill that gap. While 68,261 individuals fit into that demographic one year ago, the number has increased to 75,190.
"Once again, we're seeing wonderful news for the thousands of Idahoans who have been able to end their time of hunger," said Karen Vauk, President and CEO of The Idaho Foodbank. "Even with the good news, it's important to not forget the nearly 222,000 who still need our help. They're in every community in our state. That's why this work continues."
Over the last five years, an evolution in the types of food collected and distributed by the Foodbank has made possible a greater emphasis on health. The Idaho Foodbank's Hunger to Health Strategy is focused on the well-being of individuals, along with the health of communities across our state through access to healthier food choices, and education on the benefits of maintaining a healthy diet. The Idaho Foodbank has committed to working with partners, healthcare organizations and systems on new initiatives that address food insecurity as a social determinant of health through better nutrition, education, and referrals.
Through its new initiatives, its programs and services and traditional food distribution, its last fiscal year, the Foodbank distributed food for more than 15.5 million meals to all 44 counties in the state.
According to the study, hardest-hit counties in Idaho for total food insecurity were Madison (19.8 percent), Latah (17.5), Shoshone (17.1), and Lemhi (16.2).
For children, the highest rate of food insecurity was seen in Shoshone County, which reported a 22.1 percent child food insecurity rate, followed by Gem (21.4 percent), Owyhee (20.7), Benewah (20.6) and Adams (20.4) counties.
For eight years now, Feeding America has conducted the Map the Meal Gap study in order to better understand hunger at the national, state, and county level, and to promote geographically targeted solutions to support people in need. The Foodbank looks closely at these numbers to assess county-level needs, then works with community leaders and nonprofit partners to provide the food, programs, and services needed to help those who are struggling.
An interactive map with county and congressional district data is located here.