Feeding Others While Homeless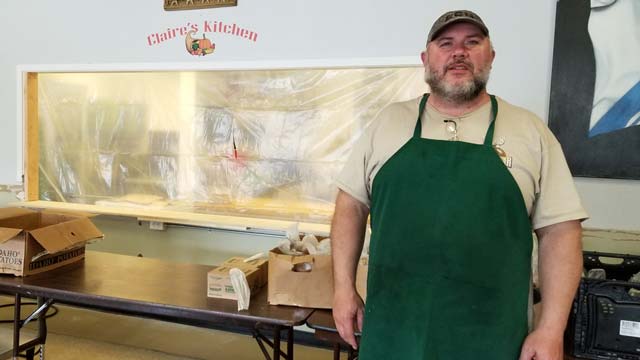 Finding a place to sleep is just one of the struggles facing the 2,000 homeless people in Idaho*. Healthy food is often just as elusive as safe shelter. Fortunately food pantries across the state provide a variety of food options for hungry Idahoans. Jonathan is one person who has benefited from the food pantry at Boise's St. Vincent de Paul, a partner of The Idaho Foodbank.
For the past 34 years, Jonathan has been semi-homeless. Occasionally he will receive shelter in exchange for house repair work. Having a roof over his head has been beneficial for Jonathan, but the impact of his work has been an even bigger blessing for him. "My greatest Mr. Fix-it moment was with an elderly couple," he said. "I fixed their deadbolt and it was a great feeling to give them that security."
Giving back to members of his community has always been important for Jonathan, even though members of his family haven't always been so kind. As a child, Jonathan suffered severe abuse which stunted his emotional growth. "I didn't know how much I lived by my feelings because of the abuse," he said. "I always had that low self-esteem."
Last year, Jonathan moved from North Carolina to Idaho to be closer to his sister and brother-in-law. He soon learned about The Idaho Foodbank after finding work at homeless shelters and food pantries. For someone who's overcome a tremendous amount of adversity, Jonathan understands the impact that food banks and local pantries can have on the community. "These people welcome you right in," he said. "I can't imagine anywhere else." Even though most people would consider him to be the one in need, Jonathan finds solace in helping others. "It's all what you make it," he said. "I like giving food to others. It boosts my self-esteem to think that I chose the right direction after all these years. All this time had meaning and fulfilment."
*Idaho's Point-in-time Homelessness Count – link
For more information on our food pantry partners, click here.