Staff Spotlight – Jane Mclaughlin | Volunteer Program Coordinator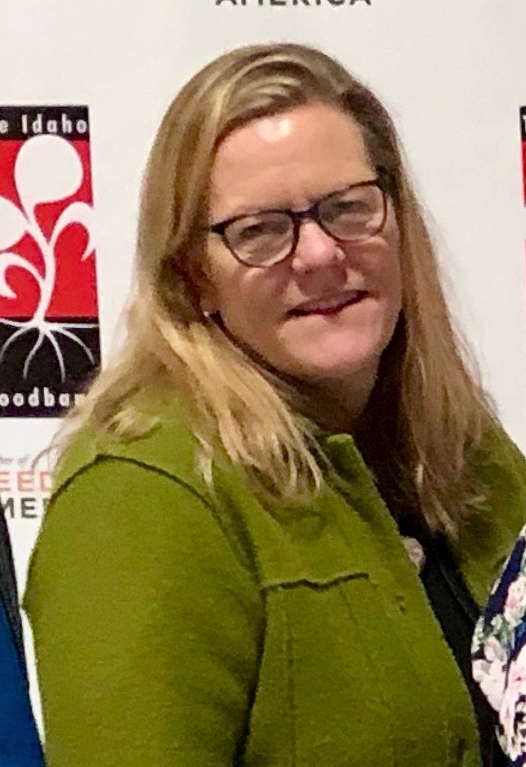 How would you describe your job?
Our Volunteer Services team runs two to three shifts, five days a week from Tuesday through Saturday. Each shift is comprised of 20 people. This is the maximum amount of people that we can accommodate in order to abide by our strict health and safety protocols; especially during the current pandemic. This also includes scheduling and juggling large corporate and community groups (churches, youth organizations, social clubs, civic groups, etc.) along with the kindhearted folks who individually sign up to share their time and talent with us.
I am also responsible for designing volunteer projects that align with the primary goal of getting food out of our warehouse as quickly as possible. This entails a meeting once a week with operations, inventory control, food sourcing, and other teams to determine the type and quantity of product that needs to be packed. There are a lot of moving parts to get the food out to our statewide partners in an efficient and safe manner.
The Volunteer Services team also spearheads major food drives such as Scouting for Food, 7Cares Idaho Shares, etc.
How has COVID-19 impacted your work?
 The "face" of volunteering immediately changed. Large groups of corporate employees immediately canceled and our older volunteers opted to stay at home. But miraculous there were individuals that immediately filled the gap – parents and kids, high school and college students, airline employees and many others who were laid off from their jobs. These people not only stepped up, but they gave us more hours.
I have also heard from these new "faces" that the volunteer shift gave some structure; a schedule to adhere to and a safe place to go during a chaotic time. There has been little disruption in our volunteer services because of these efforts. We are grateful, as this has not been the case for many of our partners in other regions of the state.
What is your greatest joy in your work?
 I get to witness that beautiful, symbiotic balance of people helping people. You see, the benefits go both ways. People come to volunteer with the intention of helping to feed people and they do. But they also walk away with a purpose; a sense of worth. I often see lonely people making a connection and becoming part of a community. There is no better feeling.
What would you say to someone who wanted to volunteer for The Idaho Foodbank?
Look us up online and sign up through our volunteer hub.  Everyone is welcome.