New Study Shows Improvement In Idaho Food Insecurity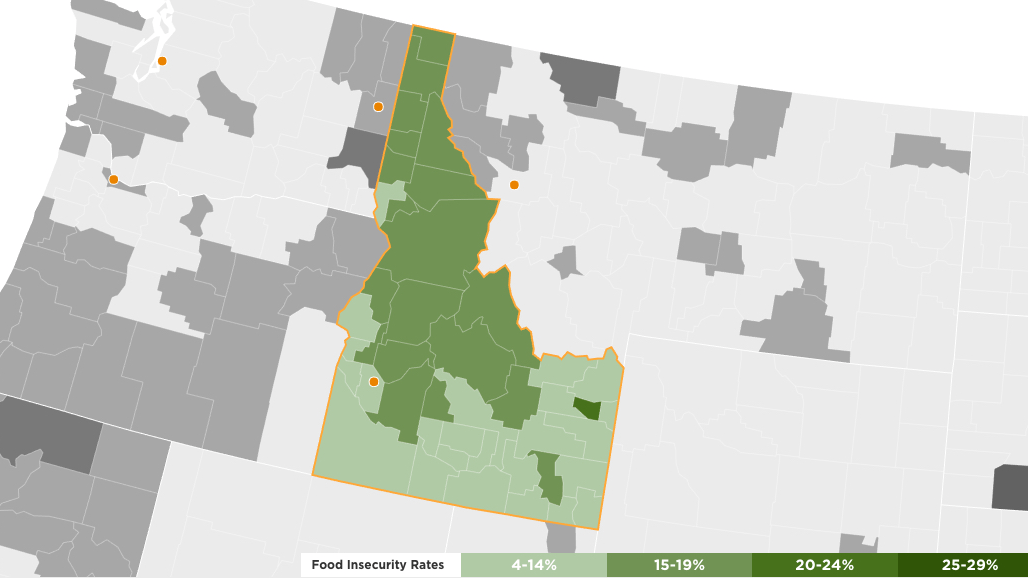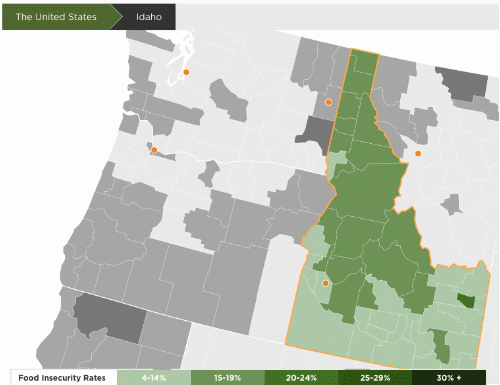 An annual study released by Feeding America is showing a positive trend regarding the number of Idahoans who are enduring hunger and food-insecurity. Map the Meal Gap, a study based on data from 2015, provides critical information including food insecurity rates for both the state and county level as well as the family budget shortfall for food-insecure Idahoans.
According to the report, Idaho's food insecurity rate is down to 14 percent of the total population, or 232,180 people. This is down from 14.7 percent, or 241,080 people in last year's study. The report also found food insecurity affects 17.6 percent of Idaho's children under 18 years old, or 76,070 children. These numbers are also down from last year's study, which reported 19.3 percent food insecurity among children or 83,110 children in need.
"As the economy improves, we continue to see a decline in the number of children, seniors and families who are struggling with food insecurity," said Karen Vauk, President and CEO of The Idaho Foodbank. "While that's encouraging, for the 232,180 people who are still in need, we want to make sure they have access to the nutrition and resources they need to shorten their time of need and help them end their period of hunger with their health and their dignity intact."
The Idaho Foodbank currently serves more than 161,000 people through its 230 community partners every month. In its last fiscal year, the Foodbank distributed food for more than 14.4 million meals.
According to the study, hardest-hit counties in Idaho for total food insecurity were Madison (20.9 percent), Latah (17.8), Lemhi (17.4), Lewis (16.2) and Valley (16).
For children, the highest rate of food insecurity was seen in Lemhi County, which reported a 23-percent child food insecurity rate, followed by Shoshone (22.3 percent), Owyhee (21.6), Benewah (21.2) and Clearwater (21.2) counties.
For seven years now, Feeding America has conducted the Map the Meal Gap study in order to better understand hunger at the national, state, and county level, and to promote geographically targeted solutions to support people in need. The Foodbank looks closely at these numbers to assess county-level needs, then works with community leaders and nonprofit partners to provide the food, programs, and services needed to help those who are struggling.
For the complete Idaho study, see related documents and links below.
Map the Meal Gap 2017 Related Documents
Reports are based on data collected and analyzed by Feeding America
Links